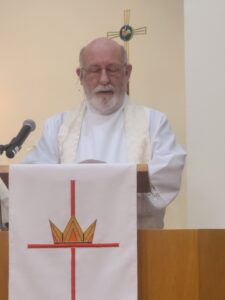 Rev. Bradley Heinecke grew up in Wisconsin, the fourth of six children. So, there will be lots of talk about cheese, Green Bay Packers, and the Wisconsin Badgers. I have not lived there for thirty years but you just can't take the Cheesehead out of the Wisconsin boy.
Two events in my High School years seemed to have touched me the most. The struggles in the Missouri Synod over the inerrancy and authority of God's Word had just went through an important point and was very evident at Concordia St. Paul where I attended college. Many of the professors were in support of the break off group in our church body as seen at Seminex (Seminary in Exile). It caused me very early in my studies to make sure that I understood the liberal theology that was being espoused by some in church body and in the Christian Church at large. A second event in America also took place in the mid-1970s, that being the legalization of abortion. These two events have continued to weigh heavy on my heart for the past 45 years.
During the last year of my college studies I met the love of my life. A quiet young gal, named Debbie, who sat in front of me in band. Within two months I knew she would be my wife and we were married the next summer before heading to Concordia Theological Seminary in Ft. Wayne. Four years later, and three children later, I graduated in 1982 and received my first call to Wisconsin. I served in Wisconsin for about 8 years before moving out West. For the next 29 years I served parishes in the Wyoming District. The last congregation I served was St. Paul's Lutheran in Sidney, NE from 2000 to 2018. Sidney was the home of Cabelas and when they were bought by Bass Pro they were closed down and the town, and the congregation, went through difficult times. Due to those problems I determined it was best to "retire" and move to our new home in Florida, hoping that I might still receive a call to serve a parish. And that is where you come in. What a joy to receive the call to serve you here in Horseshoe Bend.
Debbie and I have five children, Jerry and Erica live in Buffalo, WY (where he serves as pastor) with four of our grandkids; Josh and Allisa and two grandkids live in Montrose, CO; Chris and Dawn live in Kennewick, WA; Andy lives with us; and Beth and Michael and three grandkids live in Holt's Summit, MO where he serves as pastor. You will get to know Andy and his big smile as you see him around church and out for walks. He has seizures, which for the most part are under control, but his biggest problem is severe head pains that doctors have not been able to diagnose.
Being where God puts you is a great place to be, for pastors and lay people alike. This area is indeed beautiful and Debbie and I love traveling and seeing the sights. We have kept our retirement home in Florida and plan on having many of our Elder and Council Meetings there. (Hoping that idea might catch on so that many will want to serve as officers in the congregation.)